24-Mar-2017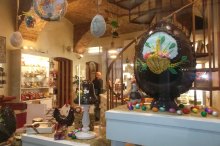 A new event dedicated to those who love chocolate: "Aspettando CioccolaTò".
From March 24 to March 26 2017 beautiful Piazza San Carlo will be hosting thirty piedmontese chocolatier presenting their products and specialities.
These meetings, events and chocolate tastings are a sweet anticipation of the annual chocolate fair CioccolaTò, which is going to take place next November.
L'Italiano Porticando is also a great lover of chocolate and organizes regularly chocolate tastings at one of Turin's most important chocolate producers in the historic city center.
Find more information among our "Special Topic Courses" or our "Cultural Courses".