This Christmas give away an Italian language course!
3-Dec-2020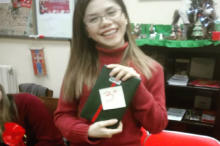 Is there a Christmas present greater than an Italian language course ? You will learn a new language, you will get to know a new country, its traditions, its history, art, music and its cuisine!
And we will make sure that this will be the best present you can immagine, no matter if you choose individual classes, small group classes or group classes (standard course), online or face-to-face.
Sign up before December, 20th and get a 10% discount on all group classes or a 15% discount on individual classes.
What are you waiting for ? Click here to sign up: here!