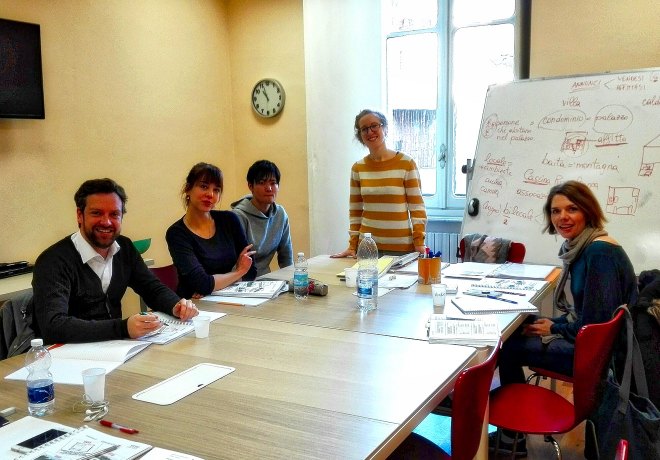 L'Italiano Porticando propose Italian language classes for all levels of proficiency, A1-C2 of the CEFL. Our courses are designed for those who want to learn Italian because they love Italy and its culture, for those who study Italian at university, for those who have moved to Italy and want to live in this country or want to learn Italian for business purposes.
The school offers all year round Standard courses, Classes in small groups, Individual classes and Combined Courses for all levels. The Combined Courses are so called, because they are the combination of a standard course with individual classes, conversation classes, business Italian, history of art or architecture, with tango, music, fashion or cinema.
Students who want to have their level of proficiency certified, can enroll for the CILS, CELI or PLIDA Exam preparation courses, which are held during the month(s) before the exam's date. People working or studying in Turin can also take part in our less intensive evening classes.
Students not living in Turin but interested in attending one of our courses have the possibility to join our ONLINE COURSES which can be individual, in small groups or in groups.

The school offers also one-week language holiday packages for groups interested in a cultural holiday. These language study stays combine an Italian language course with tours and cultural activities in and around Turin.
Our course offer is completed by Courses for university students, Courses for companies, Courses for students over 50 (50+) and Cultural Courses on Italian History, History of Italian Art, History of Italian Architecture, and many other proposals related to traditions of Piedmont and Turin.
Students planning to sign up for a long term Italian language course, L'Italiano Porticando will provide the necessary documentation to apply for their study visa at the Italian Consulate of their home country.
Furthermore L'Italiano Porticando organize one week Special topic Courses, which include an Italian language course and extra-curricular activities depending on the season or on events coming up in Turin and surroundings each year.

The Italian language courses can be completed by free cultural and extra-curricular afternoon activities, such as walks through the city, visits to museums, typical aperitifs, wine and chocolate tastings, as well as cooking classes on Piedmontese cuisine. These activities, which are part of the school's language teaching concept, will help the student to fully enjoy his language course and to deepen his comprehension and communication abilities in informal and relaxed situations.